The McGowin Library
The Library is now closed until Michaelmas 2023 to carry out refurbishment work. We will reopen for term with a new ground floor reading room, a group study space, and better storage for our rare books.
If you need anything in the meantime, please email staff on library@pmb.ox.ac.uk and we will do our best to help you.
The McGowin Library is Pembroke's own library, only accessible to members of the College. It has both key textbooks and a wealth of further reading for all undergraduate courses offered at Pembroke, plus many resources for post-graduates.
There is an extensive DVD collection of films in multiple languages, as well as a reference collection, and a small selection of recreational reading. Study space is available 24/7, as is the library's printer/copier, and the self issue machine means that students can borrow books even when staff are not available.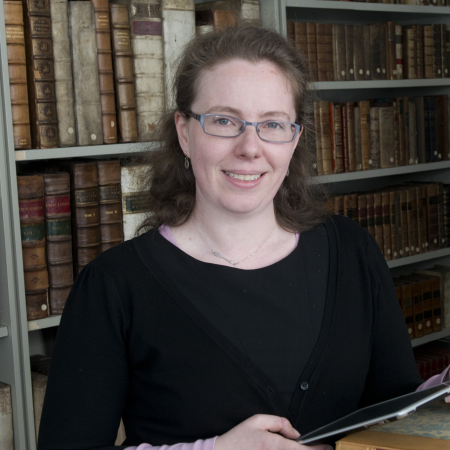 The role of the library is to ensure that all students have everything they need to successfully complete their courses. As well as providing books and study space, library staff can help with research skills, referencing, and buying books on request as needed. We also care for the College's rare books collection, providing access for external researchers, and talks or handling sessions for current students. The resources available to students in Oxford are world-class, but the sheer volume can be hard to navigate. Library staff can help guide students through databases, journals and library catalogues to make sure they spend more time studying than wading through unmanageable lists of books and articles. Whatever students need, we're here to help.