Who We Are
Our core purpose, at the heart of the College since we were founded in 1624, still guides us today:
Pembroke is an historic foundation dedicated to serve the common good through the provision of education and the promotion of scholarship and research.

Over the past four centuries Pembroke has adapted as the world around has changed: appointing academics in science, admitting women, adding new facilities; but our focus on scholarship has remained.
Today we seek to attract the brightest minds to join our community. We are fortunate to live and work in beautiful historic buildings in central Oxford, but are always mindful that our people are our future and are at the heart of everything we do. Many generations of Pembrokians have made their mark on the College, and then on the world in a huge variety of ways. 
Our down-to-earth approach and culture of having a go enables us to respond and adapt to the world around us. Collaborating with our colleagues, who bring a variety of backgrounds and perspectives, leads us to adapt and improve, and results in some fascinating academic investigations.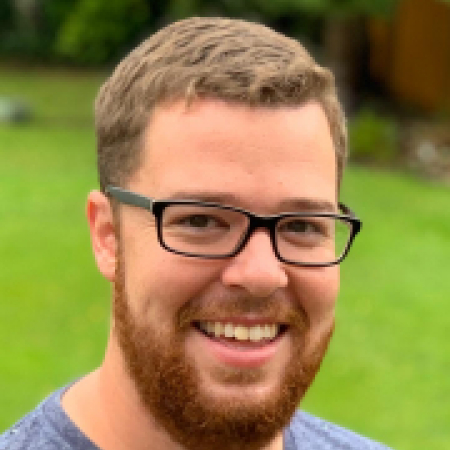 When I left school I had absolutely no intention of going to university. I didn't even bother filling out an application form because all I wanted to do was play tennis. And yet here we are, many years later, and now the university can't get rid of me! Why's that? That's a long story, but in short I grew to love thinking about some of life's big questions, and have been hooked on philosophy ever since. 

In 2020 I came back to my academic roots by returning to Oxford, becoming one of the Philosophy tutors at Pembroke. I teach a number of papers for undergraduate tutorials and I love discussing topics, dissecting arguments, and analysing concepts and theories with students. I also run the Pembroke Philosophy blog, a place where Pembroke students can share and interact with one another on philosophical subjects that interest them.
In my own research I investigate new connections between different ideas in philosophy to see how they can be applied to solve problems elsewhere. Currently I am exploring certain metaphysical questions in philosophy of religion as well as thinking about how neo-Aristotelian metaphysics can provide the basis for a meta-ethical theory. When I have the time, I also create animated YouTube videos on philosophical topics, breaking down ideas to make them more accessible to a wider audience.
Ben Page (Stipendiary Lecturer in Philosophy)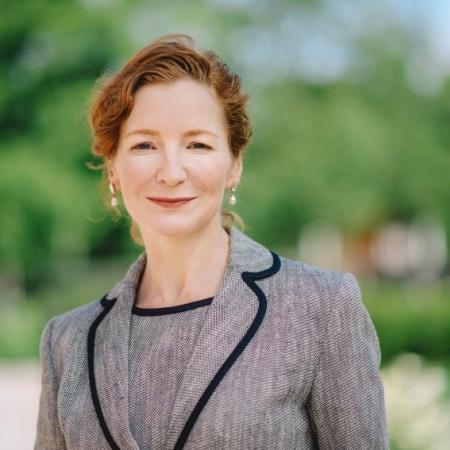 My current passion is exploring how militant jihad groups use 'soft' culture (poetry, literature, song) and harness local grievances, not only to recruit, but – equally crucially – to win toleration in the broader community. My research is mainly focused on Arabic-language materials. I spend significant time in the field, particularly in war-torn Yemen, where I have struck up strong relationships with various tribes and follow the evolution of the ongoing war closely. However, my research did not always revolve around why terrorists write poetry! I spent many years devoted to more theoretical questions of literary and linguistic development in Arabic cultures more broadly.

It's incredibly important to me that my research makes a difference beyond the confines of academia. I've spent time working with the Office of the UN Envoy to Yemen, advising parts of NATO, the British, US and other militaries, assisting a hedge fund with investments in tricky parts of the world, and I chair a grassroots NGO in east Yemen. Over the past five years, I've appeared in over 200 international television and radio broadcasts and delivered over 200 guest speeches and lectures at state institutions worldwide, reaching a range of intelligence, policy-making and military audiences. My research has also been written about in dozens of international newspapers, magazines and global online news sites.

I don't think of work as work. It's what I like to do.
Dr Elisabeth Kendall (Senior Research Fellow in Arabic & Islamic Studies)
I joined Pembroke in 2018, where I serve as a Tutorial Fellow in Ecology. In addition to the vibrant conversations with other academics and staff in college, I deeply enjoy interacting with my undergraduate and postgraduate students. I run tutorials and other academic activities that allow my students to gain a deeper appreciation for the complexities of the natural world. I frequently use some of the many resources that Pembroke and the University offer, including access to old textbooks of depictions of endemic fauna and flora via the Pembroke library and the Bodleian, visits to the back-stage collections of the Museum of Natural History, and discussions on ecophysiology and adaptation at the Botanical Gardens.
Dr Roberto Salguero-Gómez (Fellow in Ecology)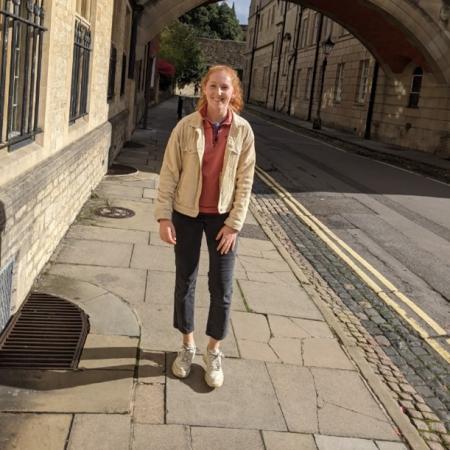 I decided to apply to Pembroke after the open day – I had visited a number of different colleges but none of them had quite the same welcoming feeling, a feeling which was cemented again during my time at interviews, where I met many more wonderful people and was able to experience more of daily life in college. Due to Covid the first term at Pembroke was challenging, however in spite of however many lockdowns have occurred during my time here (I think there have been two?), the community has always been supportive, and I was able to make friends regardless of whether or not it was possible to go to bars or clubs, or even in-person tutorials.
My typical day can vary greatly due to how many classes I have to attend, however typically I will spend the morning either in a class or in one of Oxford's beautiful libraries, and in the afternoon I will either work or play sports – the college boat club is one of the best around and I have met so many people through rowing and the socials they organise. I would also recommend joining a uni-wide society to meet people outside of college, I've been able to do so through the Oxford cycling club however there are societies for almost any interest you can think of. My advice to someone thinking of applying to Pembroke would be to keep researching and studying your subject – if you are passionate about your course and ready to dive into college life, then you already have something in common with every person who you will meet there.
Iona Neill (2020, German & Arabic)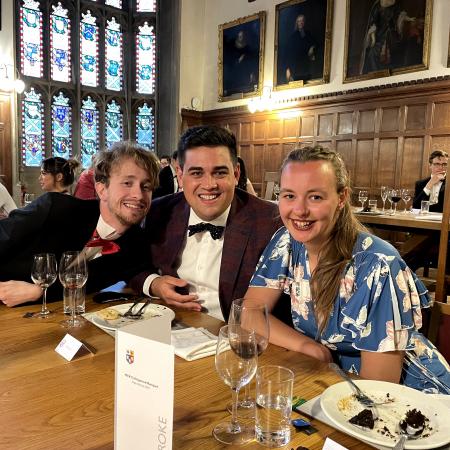 As a postgraduate, your college plays a different role in your life than for the undergraduates. In general, your college plays a support and community role – much of the actual teaching happens in your department or at the college where your supervisor is based. I'd generally start my day by visiting the MCR to make a coffee and have a chat, before heading to my department to work. Pembroke's library is also extremely useful, and had a huge number of books I needed for my politics and international relations papers (and they will always try and order hard to get books for you!).
I chose Pembroke as a postgraduate student for two main reasons. First, so many of its Fellows were engaged in the sort of research I wanted to pursue myself, and there are opportunities to get involved in discussions of their work. The Changing Character of War Centre, for example, is based at Pembroke, which gives students with an interest an opportunity to hear from leaders in the field. The other reason is Pembroke's strong graduate community – its MCR – I had heard (correctly!) that it was extremely active and welcoming. It has been a great experience.
Rohan Watt (2019, MPhil International Relations)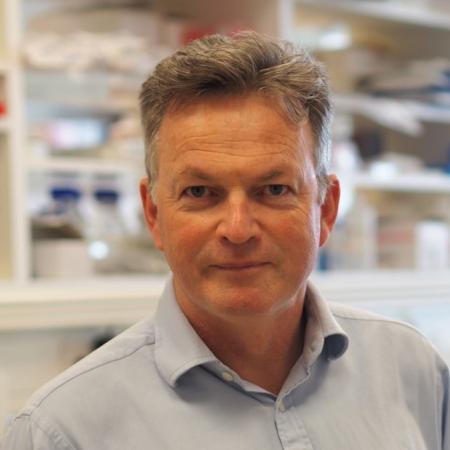 I am a medical doctor specialising in diseases of the nervous system (brain and nerves). I am also a neuroscientist, and my research is focussed on understanding the mechanisms and finding treatments for motor neuron diseases, like amyotrophic lateral sclerosis.
I obtained my medical degree from Imperial College in London and, after working as a junior doctor, came to Oxford in 1994 to undertake research with Professor Dame Kay Davies. I teach medical students about neurology, research students about neurodegenerative diseases and also supervise DPhil students.
I was delighted to become a Fellow by Special Election at Pembroke in 2020 and enjoy being part of a diverse community of scholars from all over the world.
Professor Kevin Talbot (Head of the Nuffield Department of Clinical Neurosciences)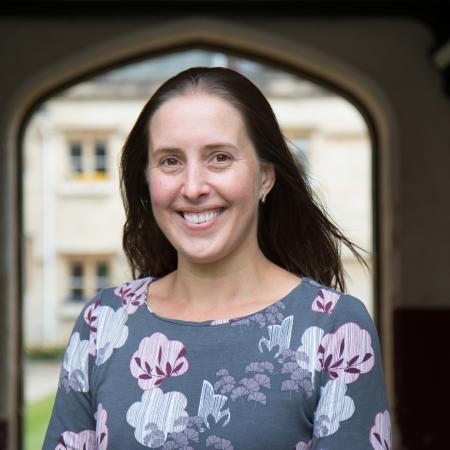 I discovered Psychology in my third year at Australian National University and delighted in the breadth of the subject. I vividly remember the joy I felt after my first Cognitive Psychology lecture. I sat outside the lecture hall, frantically scribbling ideas and feeling that I might have just discovered my 'thing'! I went on to do an Honours, MPhil, DPhil and Junior Research Fellowship (JRF) focusing on topics within the fields of Cognitive Psychology and Neuropsychology. In 2013, I was invited to take on the role of Stipendiary Lecturer in Psychology at Pembroke and the rest is history!
We have a vibrant, supportive and close-knit community and, because Psychology is so broad a subject, I am constantly learning – often through conversations with students at lunches, meetings, and research events. It is a joy to witness the progression – academic and personal – of our students from their first tutorial through to their final exam, and above all, I love it when our students discover their own 'things'.
Dr Rebekah White, Stipendiary Lecturer in Psychology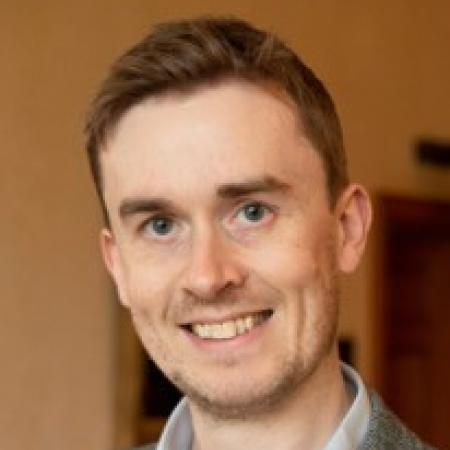 It took a long time for me to realise that I am a philosophical theologian. My first degree was Computer Science at Exeter University. After that I worked as a software engineer for the BBC. Then I went to Vancouver to complete a Masters in biblical studies, then to Cambridge for a systematic theology MPhil. My PhD finally hit the spot. Also done at Cambridge, it explores the theological potential in Paul Ricœur's philosophy of finitude, especially in relation to evil, transcendence, and creation.

My current project applies philosophical theology to difficult ethical questions around refugees, asylum, and immigration. It is also practical, looking at how Christians around the world are responding to refugees. I'm partnered with Refugee Education UK, a charity which helps refugee and asylum-seeking children and young people build more hopeful futures through education.
Barnabas Aspray (Junior Research Fellow in Religion and the Frontier Challenges)
Our Community
Students, academics, support staff and alumni contribute their own talents and experiences to the Pembroke community. We encourage each other in our work, support each other in the face of challenges, and celebrate achievements together.