Access and Outreach
Pembroke College seeks to inspire and nurture a spirit of lifelong learning and enquiry in line with our statutes, providing 'education for the common good'. We encourage pupils from diverse backgrounds to apply to the UK's top universities, including Oxford and Pembroke. Much of our outreach work is carried out under our OxNet banner.


 
Led by Pembroke College, OxNet is an access and outreach initiative which aims:
(1) to raise the attainment of the 'Most Able' pupils from disadvantaged backgrounds, (2) to be regionally focused and (3) community orientated.
OxNet also works closely with a research group based in Pembroke. CredOx ensures a data-driven, evidence-based approach to both our access work and our admissions strategy.
The OxNet programmes collaborate with a number of universities across the United Kingdom and overseas, as well as secondary schools or colleges that act as "Hubs" in London, the North West and the North East of England. It is unapologetically academic in its focus and has had a significant impact on the local communities in which it has worked since 2008.
OxNet runs intensive Year 12 courses orchestrated by 8 Hub Coordinators, involving Study Days, Seminar Series, Easter Conferences, Summer Schools, and Twilight Talks. In addition, OxNet Youth Scholars engages much younger age groups to develop academic confidence in pupils, from Year 7/8 to Year 11, through weekly and half-termly activities, mainly in the North West of England. This is done in collaboration with a number of universities, including the University of Cambridge. 
For more information about OxNet, head to their website here.
Read about OxNet's joint work with the Rochdale Development Agency here.
If you have any questions about our work, are keen to volunteer or take part in our activities please get in touch!
During a seminar series in which pupils apply to take part, new topics are covered and new texts explored. Academics and graduate students from Oxford deliver sessions in person or online. We run study skills days where Pembroke undergraduates pass on their knowledge and experiences and, in the summer, we bring more than 100 pupils to Pembroke for a residential Week in the Life of an Undergraduate experience, with tutorials, library work, lectures on optional subjects and social activities. 
During the year, we also run a series of essay competitions, with prizewinners invited to take part in Pembroke events and have their work published online, and enrichment activities like academic-related book club meetings and film screenings with discussions.
We encourage pupils to realise the value of all degree courses, and of pursuing the subject you are passionate about, rather than just choosing what you may initially think will lead to the "best" career. We provide opportunities for pupils to explore History, Theology, Modern Languages and Philosophy, as well as STEM subjects, Law and Psychology.
The Goldsmiths' Sutherland Centre for Philosophy and World Religions was officially relaunched under its new name in November 2019 as a regional centre for excellence for the teaching of Philosophy, Religions and related subjects. Based at Ashton Sixth Form College, the Centre works with secondary schools and colleges across the North West to support learning through open events and an intensive programme in partnership with several institutions.
The North West Centre for Languages and Cultures (NWCLC) was set up in 2019 at Priestley College, Warrington, part of the TCAT (The Challenge Academy Trust). It works to strengthen the position of Modern Foreign Languages in secondary schools and sixth form colleges in the North-West region through working with the University of Oxford and Lancaster University, amongst other institutions. 
The London Centre for Languages and Cultures (LCLC) was set up in 2013 as a partnership between Westminster Academy, the University of Oxford, the Open University, and partner universities in London. Based at Westminster Academy in west London, the LCLC works with numerous secondary schools across the region to foster meaningful engagement with Modern Foreign Languages amongst students.
Access week has been amazing and all the seminars have been so interesting. I watched all of the STEM-related options and also watched two of your seminars: 'How do we Remember, and is Remembering Important? An Introduction to Marcel Proust.' and 'Queer Theory'. I found them really engaging and made me genuinely interested in the theories and the writers. I was able to contribute and discuss my ideas and really question the concepts.
- Megan
Recently I wrote an article on the topic of what it means to be European, interviewing people I know and using some of the research I've done for OxNet. It was for a small online newspaper (community-run) in Italy, so it's written in Italian! I thought it was worth letting you know since I essentially based this on the initial OxNet seminars which were so interesting!
- Sofia 
I have attached my essay for Access Week, Islamophobia and Community in France. The programme has been enriching and rewarding for me in so many ways- I cannot thank you enough for this opportunity. I have been equipped with skills for life and the material in which we have covered has inspired me profoundly.
- Caitlin 
Highly enjoyed your webinar on 'How We Remember things'. I found it incredibly stimulating and couldn't stop boring my family on the subject over dinner. Will try and read 'À la recherche du temps perdu', though I may be 50 by the time I finish it. Access week has been so valuable, awakening my interests for a wide variety of academic subjects, even outside the spectrum of my career path.
- Shahad
I am so proud to have received an exhibitioner award as I have worked so hard and it is so appreciated to be recognised. I have thoroughly enjoyed being introduced to new and insightful topics (through OxNet and also the LCLC with Hollie) and with me being so personally curious and fascinated by this, I am really looking forward to applying to Oxford with OxNet being a great help. It has of course been challenging at times but that was what OxNet is all about.
- Shannon
I feel much more engaged and informed so I can come to my own conclusions about certain topics not just agree with what I'm told which is pretty nice. Getting the opportunity to learn about a great variety of languages topics really cemented my love for them and has given me the confidence to pursue what I love. I know I will be much happier studying at university now because I know my subjects will bring me joy and I can't say a big enough thank you for that.
- Grace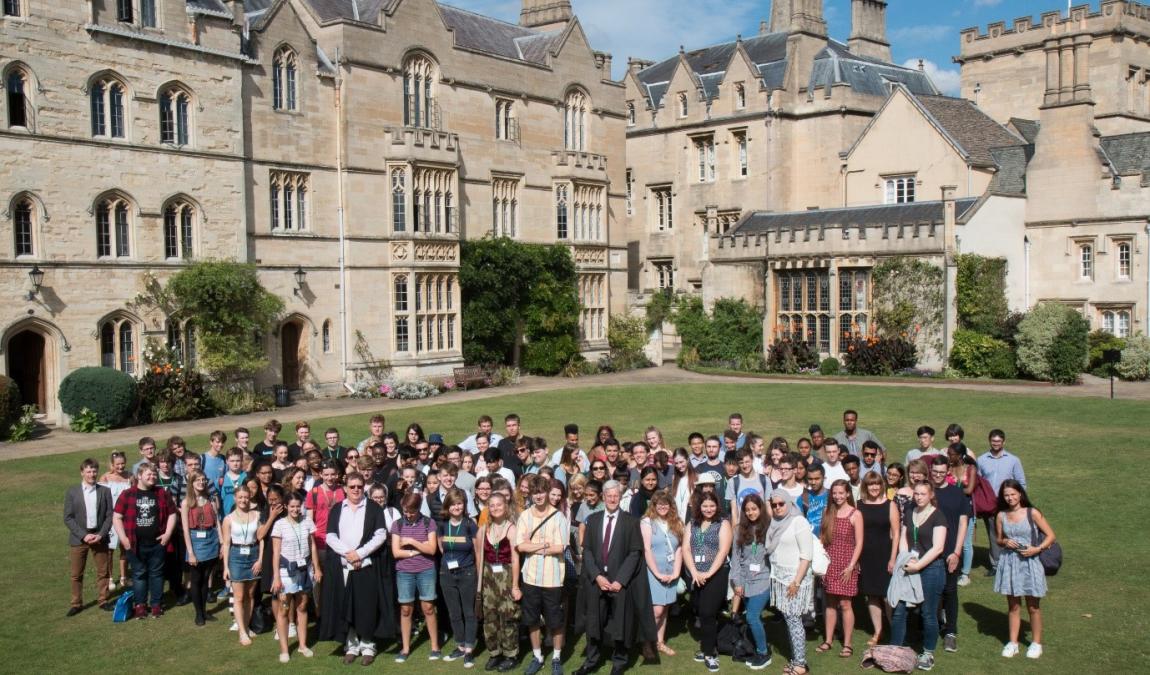 2018 Access Week at Pembroke
Pembroke is part of a group of Oxford Colleges which link to schools in the North West of England (under an arrangement whereby all Colleges link with different areas of the UK to make sure every school has a contact point in Oxford).
Our aims are ambitious:
For students in the North West to enjoy their learning, to think big and become independent learners.
To inspire students of all ages and from all backgrounds to have the confidence to be themselves and to be ambitious about their futures.
To improve the educational opportunities of all students.
To encourage more students from the North West to aim for top universities and to achieve their goals.
By 2023, to increase the number of students from currently under-represented groups from 15% of the current UK undergraduate intake to 25% of the UK undergraduate intake.
For Oxford University to be a realistic goal for anyone with academic talent and commitment
We expect to work more closely with schools and colleges in the following areas:
Blackburn with Darwen, Blackpool, Bolton, Bury, Cheshire, Cumbria, Halton, Isle of Man, Knowsley, Lancashire, Liverpool, Manchester, Oldham, Rochdale, Salford, Sefton, St Helens, Stockport,  Tameside, Trafford, Warrington, Wigan, Wirral  
We are also developing partnerships with local authorities, multi-academy trusts, community organisations, local universities and social mobility organisations. We do not expect to make radical changes overnight, but hope to build lasting partnerships across the region which will benefit the whole school community as well as our University.