Open Days
Our Open Days will be held online on 30th June and 1st July 2021.
Live Q&As
We will be hosting two live video Q&A panels with students. This is a great opportunity to find out more specific information about being a black or first generation student at Pembroke and Oxford, and to hear from current and former students. Find out more below.
We have a wide range of Subject Tutors who will be able to answer your subject specific questions about studying at Pembroke, including queries on Joint Honours. 
You can find more information about any of our tutors on their profile pages in our Academics & Associates area.
HUMANITIES
 
 
Wednesday 30th June
09:00 – 10:00

Chinese: Professor Henrietta Harrison

English: Dr Ushashi Dasgupta

 
10:00 – 11:00

History: Professor Adrian Gregory

English: Professor Lynda Mugglestone

 
11:00 – 12:00
Theology: Rev Dr Andrew Teal
Thursday 1st July
10:00 – 11:00
History: Professor Adrian Gregory
 
11:00 – 12:00

French: Dr Tim Farrant

French & Spanish: Miles Gittins (student)

SCIENCE
 
 
Wednesday 30th June
09:00 – 10:00
Engineering: Professor Nick Hawes
 
10:00 – 11:00

Biology: Dr Rob Salguero-Gomez

Biochemistry: Dr Kirsty McHugh

 
11:00 – 12:00
Medicine: Dr Lois Brand
Thursday 1st July
09:00 – 10:00

Physics: Professor Tim Woollings

Chemistry: Ms Jennifer Redmond

Maths: Dr Reuben Green

 
10:00 – 11:00
Biology: Professor Nick Kruger
 
11:00 – 12:00

Psychology: Dr Rebekah White

Medicine: Professor Fredrik Karpe

SOCIAL SCIENCE
 
 
Wednesday 30th June
10:00 – 11:00

Economics: Dr Craig Holmes

Philosophy: Dr James Read

 
11:00 – 12:00
Law: Professor Rebecca Williams
Thursday 1st July
10:00 – 11:00
Economics: Professor Pramilla Krishnan
 
11:00 – 12:00
Law: Professor Rebecca Williams
For those who are interested in Graduate Medicine, Dr Richard Harrington will be available for informal online meetings by appointment in the afternoon on Thursday 1st July. To arrange this, please email admissions@pmb.ox.ac.uk.
Our students will be available to answer all your questions about life at Pembroke. No question is too small or silly, and they will be happy to tell you all about coming to Pembroke and what it is like to be an Oxford student. Check out their biographies below to find out more about our students who are helping with our Open Day.
Wednesday 30th June
08:00 – 12:00
Jean Franco, Arabic and Persian
Maddie Judge, Biology
Abby O'Gorman, Physics and Philosophy
12:00 – 16:00
Josephine Moir, Theology
Miles Gittins, French and Spanish
Thursday 1st July
08:00 – 12:00
Ailsa Brown, Chinese Studies
Ilona Reid, History and Economics
Lara Clarke, Psychology and Linguistics
12:00 – 16:00
Jean-Emmanuel Perez, Economics and Management
Damon Marlow, Mathematics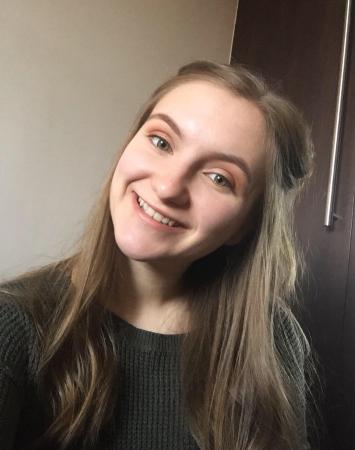 Hi, I'm Abby O'Gorman and I'm a first year studying Physics and Philosophy. Whilst in Oxford, I have taken up kayaking and exploring lots of Oxford's libraries.
Hi, my name is Chimdi Okpalauko and I am a first year studying Theology and Religion. Outside of my degree I compete in shot put and discus at a university level.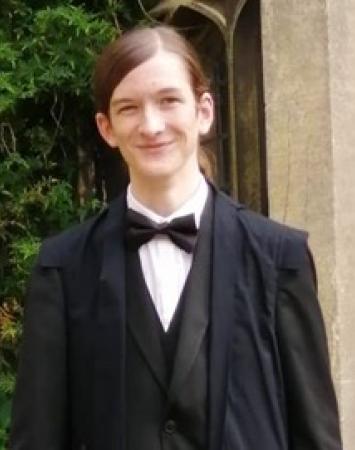 Hi, I'm Damon Marlow and I'm first year studying Maths. I enjoy going to the college boat club, as well as relaxing on the college lawns when it's warm.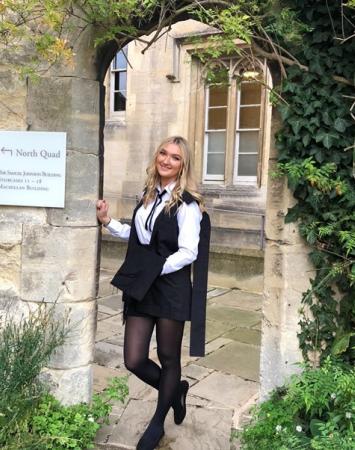 Hiya, I'm Ilona and I've just finished my first year studying History and Economics! My specific interests include early modern Italy and behavioural economics. I am next years Entz Rep and can't wait to put on loads of activities and BOP's for everyone! When I'm not drinking excessive amounts of coffee in Farthings (they do the best iced lattes!) you'll find me working on the quad or trying to learn how to play spikeball. Pembroke is one of the friendliest colleges and one of the most central which is great when going for half-price Itsu in the evening – you'll bump into half of Oxford!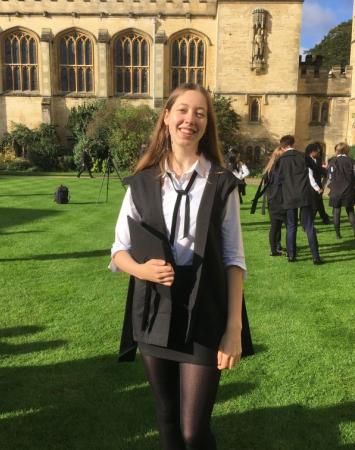 Hi, my name's Josie and I've just finished my first year studying Theology. I love pubs, music, and seeing all the Pembroke flowers come out in summer!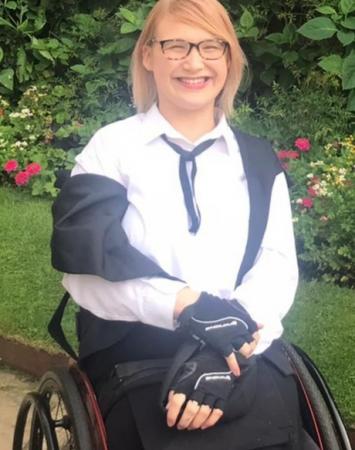 My name is Lara, I'm just coming to the end of my first year doing Psychology and Linguistics, and next year I'm also going to be Disabilities and Student Carer Rep for the undergraduates at Pembroke. My favourite things to do in Oxford include singing in Pembroke chapel choir, pretending to know things at the university quiz society, and eating ice cream – ideally at G&Ds, the amazing independent ice cream shop just down the road from Pembroke!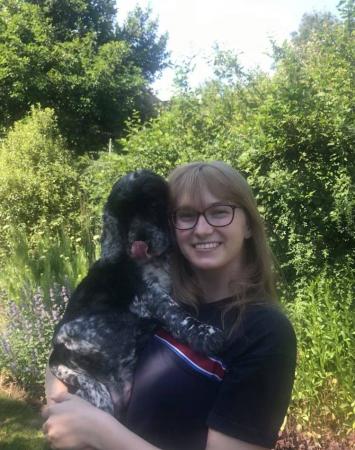 Hi, I'm Maddie and I'm a third year studying Biology. I have loved my time at Pembroke and have particularly enjoyed getting involved with and organising activities for College in my role as a welfare rep.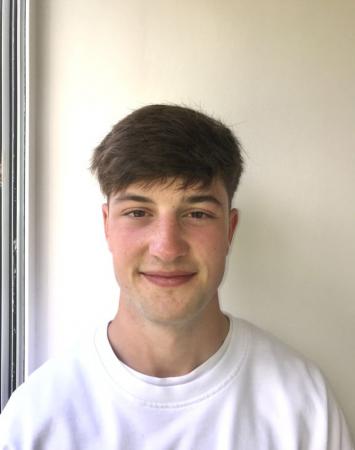 Hi I'm Miles and I'm in my first year studying French and Spanish. I've really enjoyed playing rugby for Pembroke this term and getting involved in the wider college social events this year.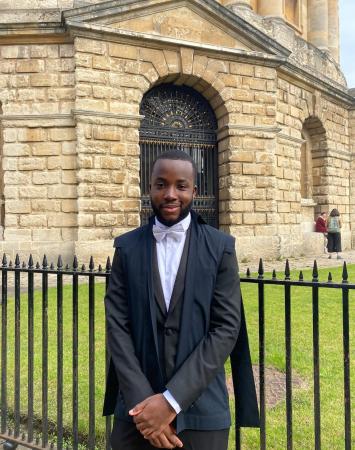 Hey, I'm Reco Osei Kofi, a first year studying History. I enjoy being a part of the Pembroke Football and Rugby Teams (especially the socials!)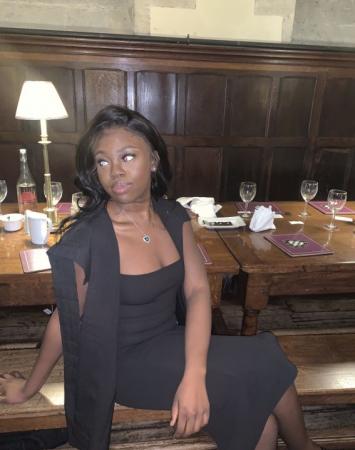 Hi! My name is Xaira and I am a third year History student. I enjoy going to seminars and events by the African studies department and I am also the current president of the Black Legacy society.
Members of the Academic Office, who look after applicants throughout the admissions process, will be on hand to answer your questions relating to applying to Oxford and Pembroke. They will be available from 8:00am – 4:00pm (BST) to answer questions on Slido.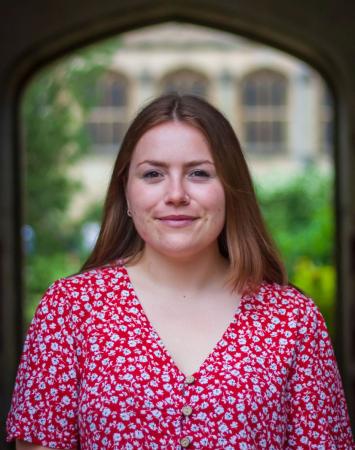 Hi I'm Kate, Student Officer: Recruitment, Experience & Events at Pembroke College. I studied History at Oxford from 2014-17 and was generously supported by the Reuben Foundation as a Scholar. I went to a state school in Oxfordshire, and was also a First-Generation student, meaning I was the first person from my family to go to university.
Since graduating, I have gone on to work in the charities sector at an Oxfordshire charity supporting survivors of sexual violence, before joining the team at Pembroke in 2021. I really enjoy supporting students and hope to use my experience of Oxford as a First Gen and state school student to inspire others to think about Oxford. Please feel free to get in touch if you have questions about life or studying at Oxford.
Outside of my work at Pembroke I enjoy volunteering to support my local community with the Covid vaccination programme, outdoor swimming and working on my latest knitting project.
If you have any questions about the Q&A events, the registration form, or Pembroke College's Open Days, please email admissions@pmb.ox.ac.uk.