Welfare and Wellbeing
At Pembroke, welfare support is not something that a few people provide when students are experiencing a crisis, but rather, it is firmly engrained in our College culture and provided by all members of our community. Everyone who works at Pembroke is committed to creating an environment where students are able to flourish.

Students celebrate each other's successes, lift each other up at difficult times, and support one another to get the most from Oxford – personally and academically.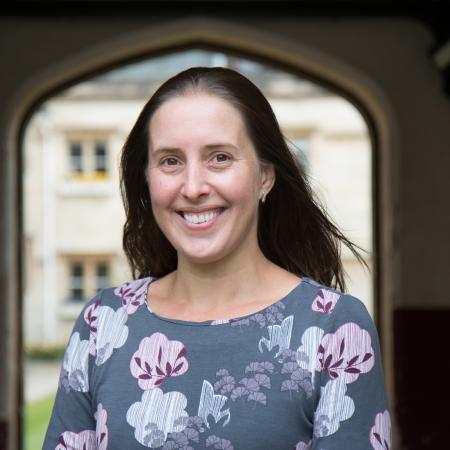 If you need support, there is always someone you can talk to and the conversation can be as formal or as informal as you like! Simply speaking through a problem can be helpful and, if additional support is required, we can help you to identify resources within the College or University (or further afield) that can help you to get back to a place where you are able to get the most from your time at Pembroke and Oxford.
Welfare and Wellbeing Coordinator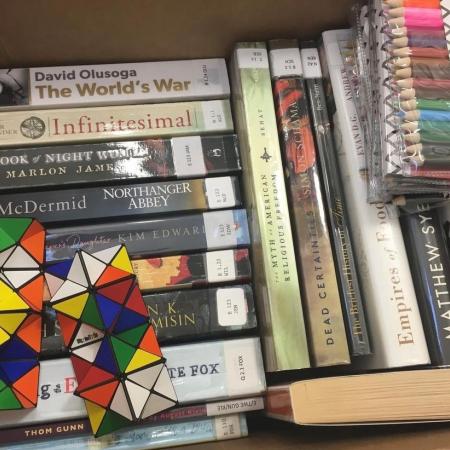 @pembrokejcr "A shout out to our incredible librarians who have started to roll out a 'mystery book box' for all our isolating households!!! Laura you are honestly the best!! Thank you so much - Hattie xx"
We recognise that there is a diversity of needs across our student community, and we want the academic journey of every individual to be a successful and fulfilling experience. You may find the information below useful in exploring the support that is available.
The terms 'welfare' and 'wellbeing' are relevant to all students at all times! Positive welfare and wellbeing involve having good mental health and a sense of meaning, purpose, and contentment. Students tend to come to Pembroke with a set of goals that are tied into positive welfare and wellbeing. Although bringing different expectations and experiences to University, most students share some version of a common goal: to immerse themselves in their subject, to achieve their potential, and to enjoy themselves as much as possible along the way. The Welfare and Wellbeing team (and everyone who is a part of the Pembroke Community) work with students to help them realise these goals as well as other goals that they may have already set or that they set along the way!
We urge students to actively engage with College Welfare and Wellbeing support and have worked to create a culture where it is positive, encouraged and normal to ask for support when needed. One way that we work with students is by providing support if challenges arise during a student's time at University. These challenges may be related to pre-existing health conditions (for example, mental health conditions, physical health conditions), learning (or other) disabilities, or personal circumstances. Or, they may be new challenges that emerge during a student's time at University.
If a student has a pre-existing health condition, learning (or other) disability, or set of personal circumstances that may affect their capacity to flourish at Pembroke and University, we strongly encourage them to get in touch before arriving so that we can work with the student either to put appropriate support in place and thereby smooth the transition to University, or to point out College and University resources that may prove useful should they need extra support at any time. Another way that we work to support students in achieving their goals is by cultivating a culture that promotes positive wellbeing – for example, by running events that are aimed at helping students to feel good, achieve balance, and build connections. We hope that our proactive approach to welfare and wellbeing means that, should challenges arise, we are in a place to support students early and before these challenges exert too great an impact on a student's health, happiness and capacity to flourish.
Even if you do not consider yourself to have a disability, you may still experience challenges relating to either your physical or mental health, or a specific learning issue. If this is the case, there is a range of support available to you whilst at university to facilitate your learning and ability to thrive on-course. The Disability Advisory Service in particular provides advice and guidance to all students; when you register with them, an advisor will discuss with you your experiences and expectations of study and support, and will consider how best to meet your needs in order for you to get on with your studies. This is often involves a student support plan, which will put in place formal support structures to help you manage a condition, but they can also help you to be assessed for a specific learning difficulty, and assist you in receiving extra support as a result. Whatever your particular needs you will be seen as an individual and provided with a range of options for your specific case.
We are committed to supporting students from a care background, and ensuring that you receive the help you need in order to have a successful time at university. As a care experienced student, starting and studying at university can be particularly challenging – particularly when dealing with accommodation, holidays, and a potential lack of financial support. The College's Care-Experienced Student Lead is the Academic Registrar. Please do feel free to make contact if you have any queries about your circumstances and how the College can assist you.
The University of Oxford also provides support to students who have experience of the care system, so please do see here to find out more about the support offered: 
As an estranged student, starting and studying at university can be particularly challenging without the support and approval of a family network – particularly when dealing with accommodation, holidays, and potentially a lack of financial support.
We understand that no two estranged students' circumstances are the same, and we also realise that you may not fully identify as estranged or meet the criteria to be considered self-supporting. We are, however, committed to offering support throughout your studies wherever possible, so if you feel that you are or may be in this situation, please contact the Academic Registrar who will be your primary point of contact and support within college.
The University of Oxford also provides support to students who are studying without the support and approval of their families.  It aims to ensure that you will receive the help you need in order to have a successful university experience.
In addition to our wonderful welfare team who are here to support you, we provide lots of bespoke sessions and resources, take a look at a few examples below:
Imposter Syndrome Seminar
Reframing Anxiety Workshop