Why Choose Us?
We welcome graduate students from across the world,

who join a very

dynamic and diverse multi-disciplinary postgraduate community, known as our MCR (Middle Common Room). The

MCR is a thriving community of around 240 graduate students and is a lively hub of academic and social activity, hosting

a variety of events, opportunities for sharing research ideas, and the chance to interact with established scholars.
As a full-time or part-time graduate we will provide you with the following support to enrich your time in Oxford:
The Dean of Graduates who has overall responsibility for the academic progress and wellbeing of its graduates.


 
A College Adviser,

a Fellow of the College or senior academic in a relevant field associated with the College, who can support you in your work

and who will meet you from time to time, often over lunch or dinner.
 

Each term there are MCR dinners, talks and research events, given by a mix of current graduates, Fellows and visitors.


 
High-quality accommodation options are available for full-time graduates during the first year of your programme, and

wherever you live you are welcome to use the full range of facilities in College.


 
Each year we offer full-time graduates a range of scholarships at Masters and DPhil levels, some endowed by donors, others in partnership with Departments or the University.

In addition, both full-time and part-time graduate students are eligible for a range of grants and prizes towards research, field trips, attendance at conferences, purchase of books, or hosting a research event. 


 

Each student meets with the Master, the Dean of Graduates and their College Adviser at least once each year for an Academic Review. Should any problems arise during your studies in Oxford then the College is well placed to offer support and advice.
Your college at Oxford is your home while you're studying. We wish to reflect and support the widest diversity of talent: whatever your background, we think you will find your place and feel at home in our community.
Teaching and Learning
Graduate teaching and learning is somewhat different at Oxford compared to other universities. As a graduate student, much of your teaching and supervision will come from your department or faculty. Within College you will have a College Adviser, normally a College Fellow in a relevant discipline, who will support your studies and monitor your progress.
Your department is the centre of your academic life. You might have lectures, seminars, and discussion groups with other students there, it will be where you will find your labs and study spaces to conduct research, and it's also where your supervisor will be based. Your department may also organise social and networking events that you can take part in and will provide welfare support throughout your studies.
Like departments, colleges are communities of academics, support staff and students. However, colleges also bring individuals from different departments together to create small interdisciplinary communities and provide a shared social space (known as the graduate common room or MCR) that extends beyond your subject.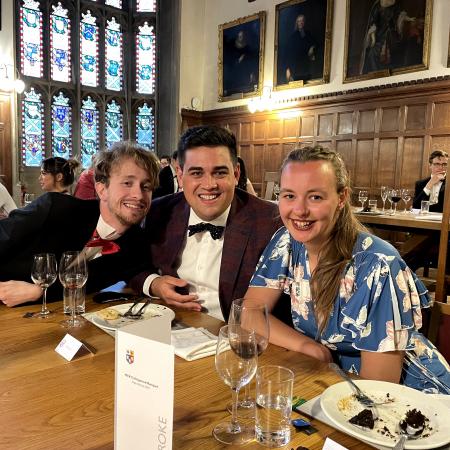 As a postgraduate, your college plays a different role in your life than for the undergraduates. In general, your college plays a support and community role – much of the actual teaching happens in your department or at the college where your supervisor is based. I'd generally start my day by visiting the MCR to make a coffee and have a chat, before heading to my department to work. Pembroke's library is also extremely useful, and had a huge number of books I needed for my politics and international relations papers (and they will always try and order hard to get books for you!).
I chose Pembroke as a postgraduate student for two main reasons. First, so many of its Fellows were engaged in the sort of research I wanted to pursue myself, and there are opportunities to get involved in discussions of their work. The Changing Character of War Centre, for example, is based at Pembroke, which gives students with an interest an opportunity to hear from leaders in the field. The other reason is Pembroke's strong graduate community – its MCR – I had heard (correctly!) that it was extremely active and welcoming. It has been a great experience.
Rohan Watt (2019, MPhil International Relations)
Pembroke feels like home because of the great people you will meet there. The postgraduate community at the college (aka MCR) is incredibly active and goes above and beyond to put on events not only at the start but throughout your degree.
I recommend attending many of the events in freshers' week – that is the best and easiest way to meet people. You'll then always find a friendly face at the MCR bar throughout the rest of your time at Pembroke.
Klaudia Wegschaider (2018, DPhil Politics)