Dine
Our outstanding catering team are skilled at creating visually stunning and delicious seasonal and locally sourced dishes whilst remaining sensitive to your guests dietary requirements. Whether you are looking for a small drinks reception to bring your guests together at the end of a meeting or a formal banquet for up to 168 guests we have a space and a menu for you!
Capacity: 50 - 150, tables in the Hall can be adjusted to suit your numbers with a maximum capacity of 150 guests in formal banquet style or 168 in students style.
Availability: Term Time & Vacation
Facilities: Built in PA System
Accessibility: Fully Accessible
Built in 1848 and set in the Chapel Quad, Pembroke Hall is a fine example of early Victorian Gothic architecture boasting a small cupola, a roof built to the hammerbeam design and a large tower with a niche holding a statue of King James I who granted the College its Foundation Charter in 1624.
With its fine stained glass windows, chimney piece of Painswick stone, portraits of our founders, benefactors and former Maters and curated photographs of our recent notable Alumni, dining in Pembroke's Hall is a richly memorable experience.
Capacity: 25 - 48, the tables can be flexibly arranged in rows or a U-Shape.
Availability: Term Time & Vacation
Accessibility: Fully Accessible
Forming part of the 19th century Hall, and sitting in the foot of the Tower adjacent to the main dining rom. The Forte Room offers an intimate private dining space for 20-48 guests.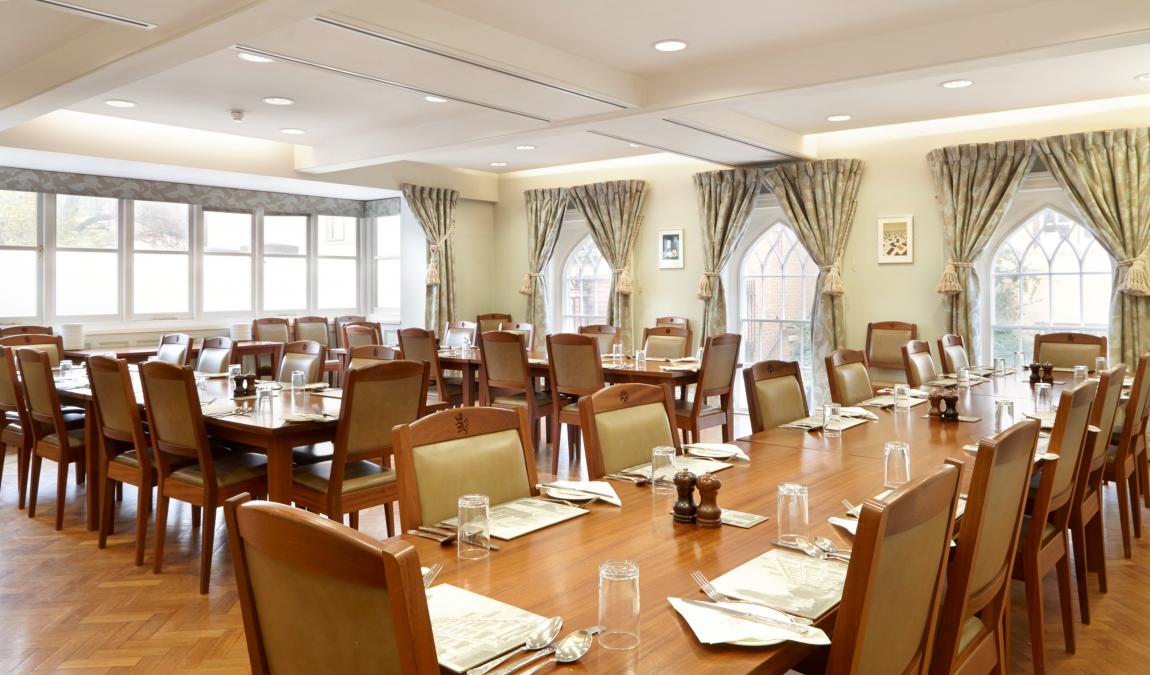 Capacity: 25 - 40
Availability: Term Time & Vacation
Facilities: Built in screen and projector that discreetly tucks away into the ceiling, PA System and Hearing Loop
Accessibility: Fully Accessible
Accessed over a charming footbridge and often described as 'the best meeting room in Oxford'. The Harold Lee Room is prestigious location for high-level meeting and drinks receptions. The dual aspect floor to ceiling windows offer picture-perfect views looking back over the traditional Chapel Quad and Old City Wall and forward over Rokos Quad and our neighbours - Campion Hall.