The Rt Hon The Lord Carswell (1934 - 2023)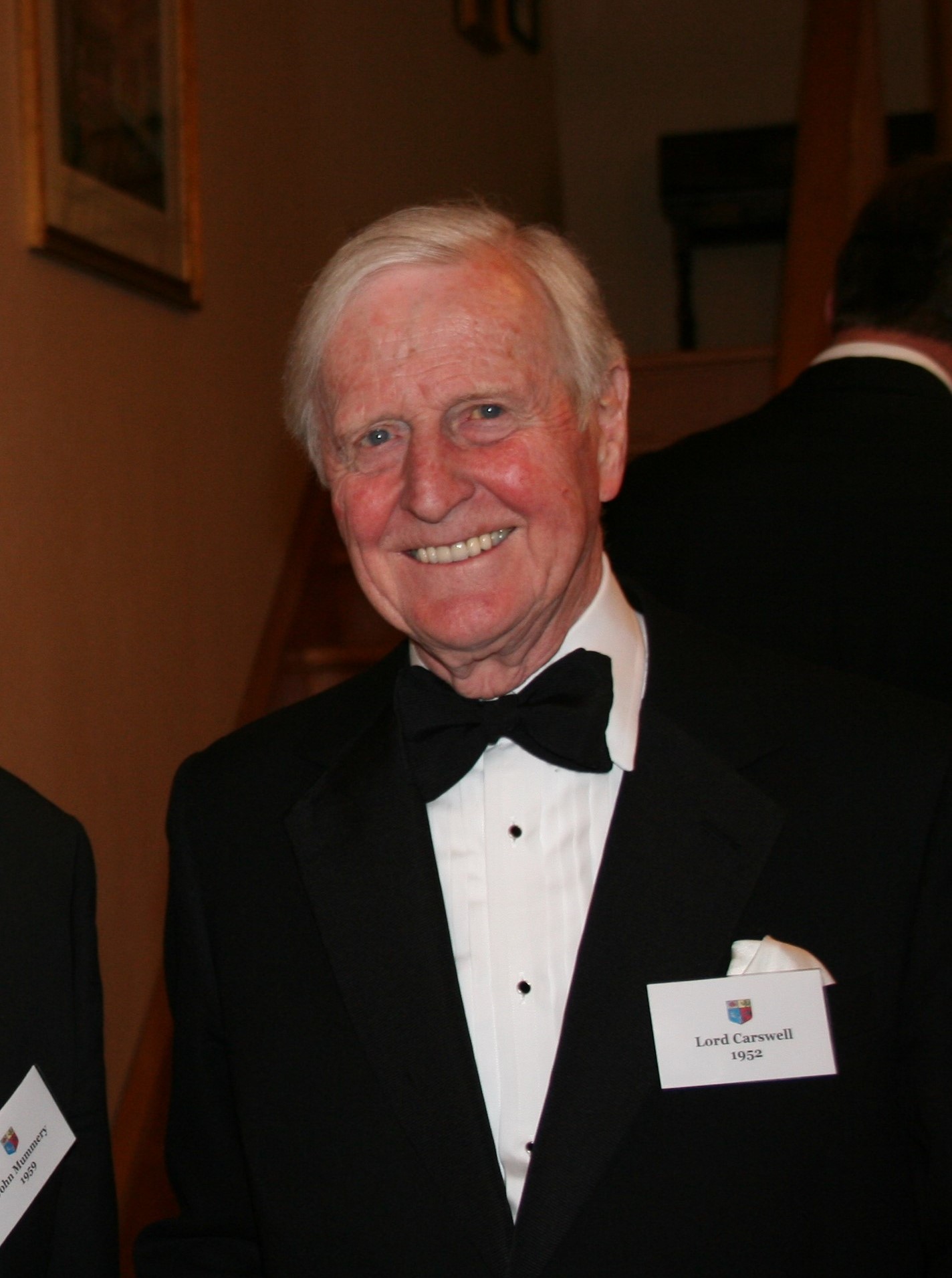 It is with great sadness that the College has learned of the death of The Rt Hon The Lord Carswell, alumnus and Honorary Fellow of Pembroke. Lord Carswell's distinguished legal career culminated in him serving as the Lord Chief Justice of Northern Ireland and then a Lord of Appeal in Ordinary.
After receiving a Pembroke Scholarship while at the Royal Belfast Academical Institution, Lord Carswell came up to Oxford in 1952 to study first Classics and then Law.  Shortly after Lord Carswell left Pembroke, then Master Ronald McCallum described him as 'the most admirable student', adding that 'he was an active and popular member of the College and his hard academic work did not prevent him from being a keen player of Rugger and other games, and a man of much account with his fellows.'
Alongside his academic distinction and sporting involvement, Lord Carswell was a member of three other College societies, taking his turn as president of each of the Beaumont and Johnson Societies (both literary groups) and the Blackstone Society. Some five decades later he was invited back to Pembroke as the speaker at the Inaugural Blackstone Society Grand Dinner. As a scholar he regularly read the lesson during chapel services, and in 1990 would return to the Chapel for the wedding of his elder daughter.  In a 2010 reminiscence exercise, he remembers with fondness his experience at Pembroke: 'The whole process gave me a degree of confidence which was of inestimable value to an unsophisticated young provincial.  And it was all great fun, which has left me with a host of happy memories and most agreeable associations.'
After graduating with a first-class degree in Jurisprudence in 1956, Lord Carswell studied at the University of Chicago Law School, becoming a Juris Doctor in 1958.  Called to the Bar of Northern Ireland in 1957, he served as a Barrister for fourteen years and for the latter two was the Counsel to the Attorney General for Northern Ireland.  In 1971 he was made a Queen's Counsel and from 1979 was Senior Crown Counsel.
This was followed in 1984 by his appointment as High Court Judge in Northern Ireland and as Chairman of Council at the University of Ulster.  In the same year he was elected Honorary Fellow of Pembroke, and in 1988 was knighted.  At the end of his nine-year spell as High Court Judge he became a Privy Counsellor and Lord Justice of Appeal in the Supreme Court of Judicature of Northern Ireland.
From 1997 to 2004 Lord Carswell served as Lord Chief Justice of Northern Ireland.  He has been commended for his confident leadership of the judiciary at a time of immense challenge in Northern Ireland, elected just a year before the Good Friday peace agreement and himself targeted by an IRA bomb the day before he was sworn in as a High Court judge in 1984. For five years after stepping down as Lord Chief Justice, he was a Lord of Appeal in Ordinary as Baron Carswell of Killeen in the County of Down.  He sat in the House of Lords as a crossbencher from 2004 until his retirement from the House in 2019.  In the nine years following his retirement from the Appellate Committee he addressed the House of Lords multiple times, particularly on the Crime and Courts Bill, as well as the European Withdrawal Bill.
Sir Ernest Ryder, Master, comments: "For many of us who were lawyers and judicial colleagues during his exceptional career, Lord Carswell was the epitome of dedication and ethical practice. He had a towering intellect and great leadership talent, both worn lightly. As a Pembrokian, Lord Carswell was everything that the College aspires to be: a man of values, a great friend and an ambassador who reflected what makes a good college great. He admired our younger generations of students for remaining true to their principles and for maintaining the ethos of the College as a warm and friendly community of scholars who make a life long commitment to help each other and to serve the public good. He will be greatly missed."
Lord Carswell will be remembered for his long and dedicated career in the courts of Northern Ireland, for his commitment to public service, and for his warm character which placed him in high regard among his tutors and peers here at Pembroke.  Our thoughts are with Lord Carswell's family and friends at this time.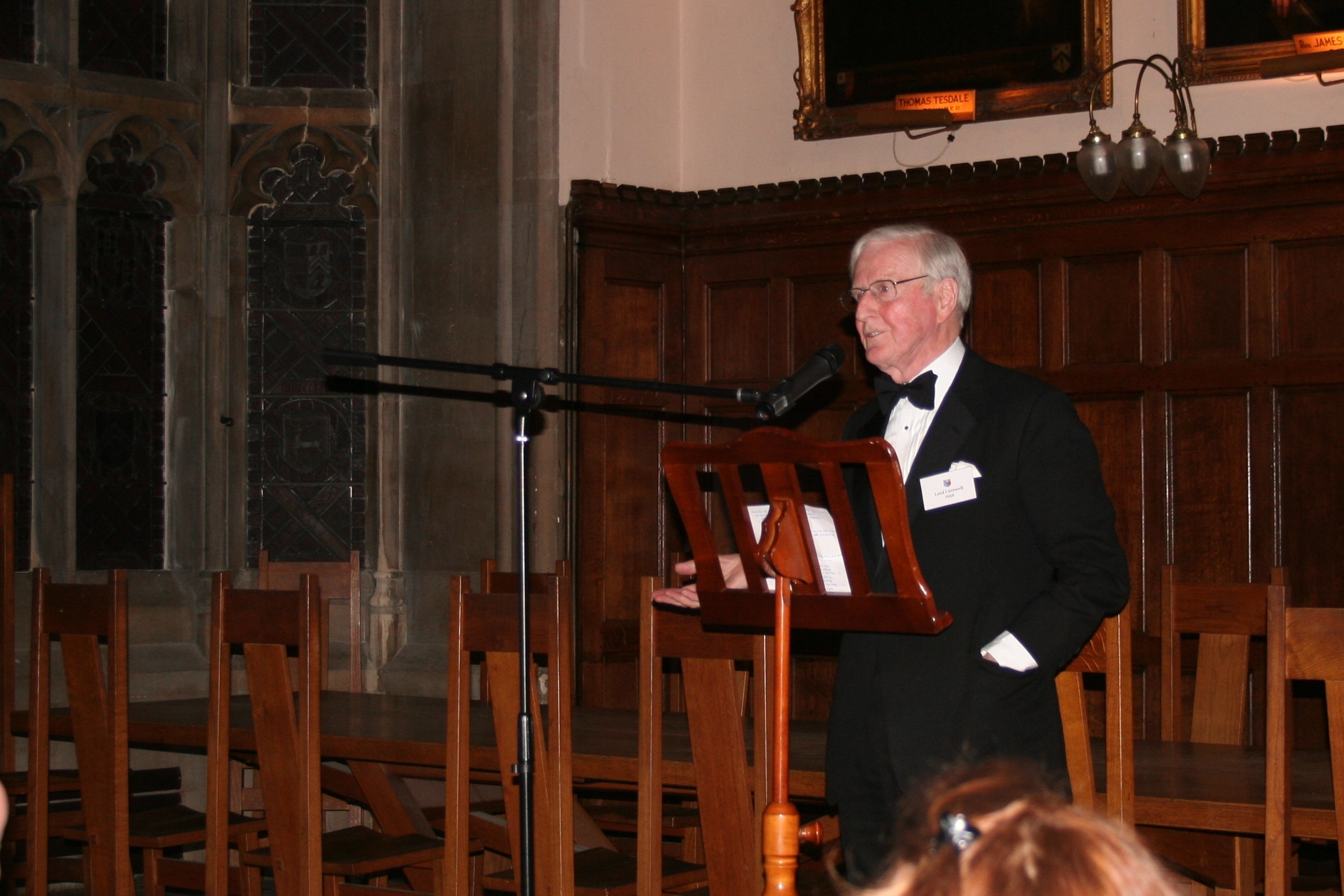 Lord Carswell speaking at the Inaugural Blackstone Society Grand Dinner at Pembroke in 2009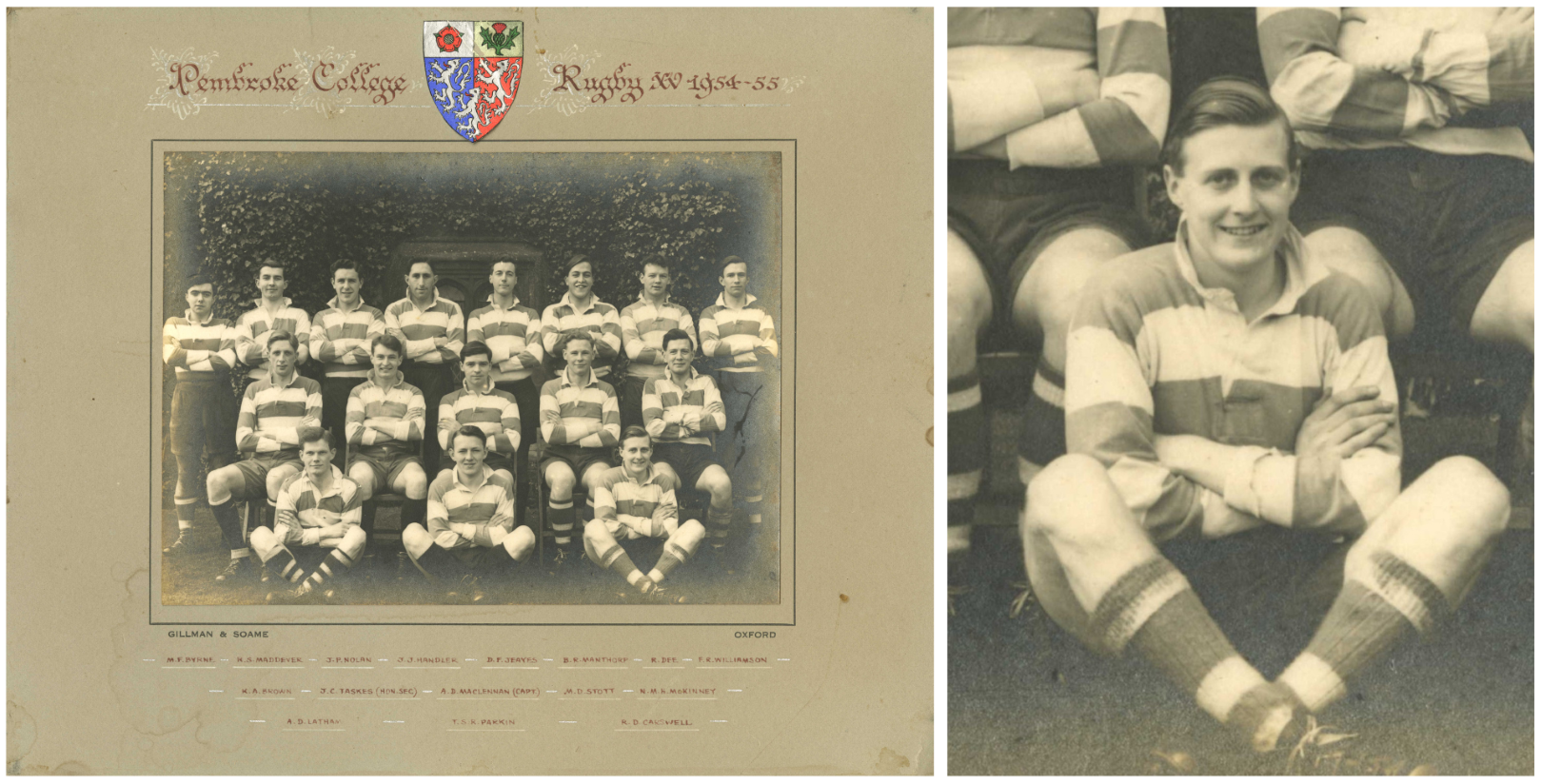 Carswell with the 1954-55 Pembroke College Rugby team