Peter B. Grose
The College is saddened to report the death of alumnus and Honorary Fellow, Peter B. Grose.
Peter Grose was an American scholar, journalist and civil servant and former president of the Pembroke College Foundation of North America.
Already a graduate of Yale University, Grose came to Oxford in 1957 to study PPE at Pembroke. He was a member of the Pembroke College Boat Club, and coxed for the men's first VIII in the year the crew bumped into the first division for the first time.
After graduating from Pembroke he began his career in journalism with the Associated Press, before moving to the New York Times. He worked as a foreign correspondent in eight countries over the next decade, then as a member of the editorial board and chief of the United Nations bureau. In 1974 he became a member of the Council on Foreign Relations and would later publish a history of the organisation.
From 1977 – 78 Grose served in the Carter administration as Deputy Director of Policy Planning for the Department of State.  Over the next twenty years he held a series of research positions and fellowships with the Rockefeller Foundation, Middle East Institute, Council on Foreign Relations and Harvard Kennedy School.  He published widely on international relations during this time and was the executive editor of Foreign Affairs magazine for many years.
Peter's commitment to this College was clear in his role in the foundation of the Pembroke College Foundation of North America, of which he was president for many years. Close friend of Peter and current president of the PCFNA, Tom Herman, writes: 'Peter was the heart and soul and champion of the Pembroke College Foundation as its founding president.  Working closely with then-Master Sir Roger Bannister, he foresaw the benefits of knitting together Pembroke's North American alumni, not only for their financial support for College, but even more important, in his view, for nurturing a Pembroke American community.' Peter was later made an Emeritus Trustee of the Foundation in recognition of his commitment to the College and his service to the PCFNA.
In 1987, while editor of the 'Current Affairs' journal and still President of the North American Association, Peter was was appointed to an Honorary Fellowship at Pembroke.
The College extends its deepest condolences to Peter's friends and family at this time.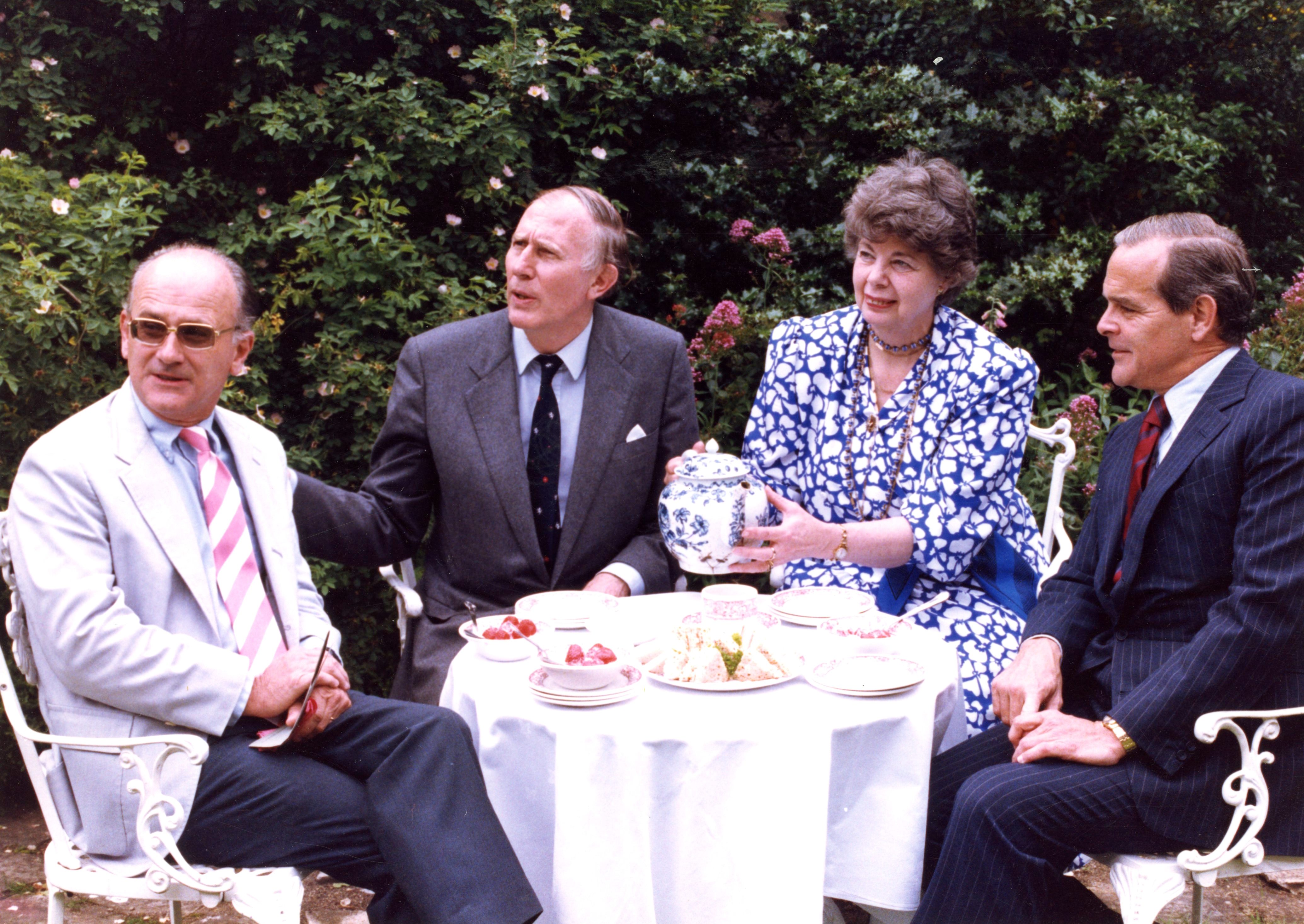 Peter Grose (left) with Sir Roger Bannister, Lady Bannister and Honorary Fellow Damon Wells