Alumni Groups, Events & Activities
There are many ways to stay connected with us, from attending an event in College or online, to meeting alumni in your local area. There are opportunities to get involved with the College's access activities, or to meet and mentor current students. Our Pembroke Links programme could help you with your own career or could be a chance to give advice to others. 
Please do get involved and if you're not sure where to start the best person to contact is Andrew Mitchell, Director of Alumni Relations.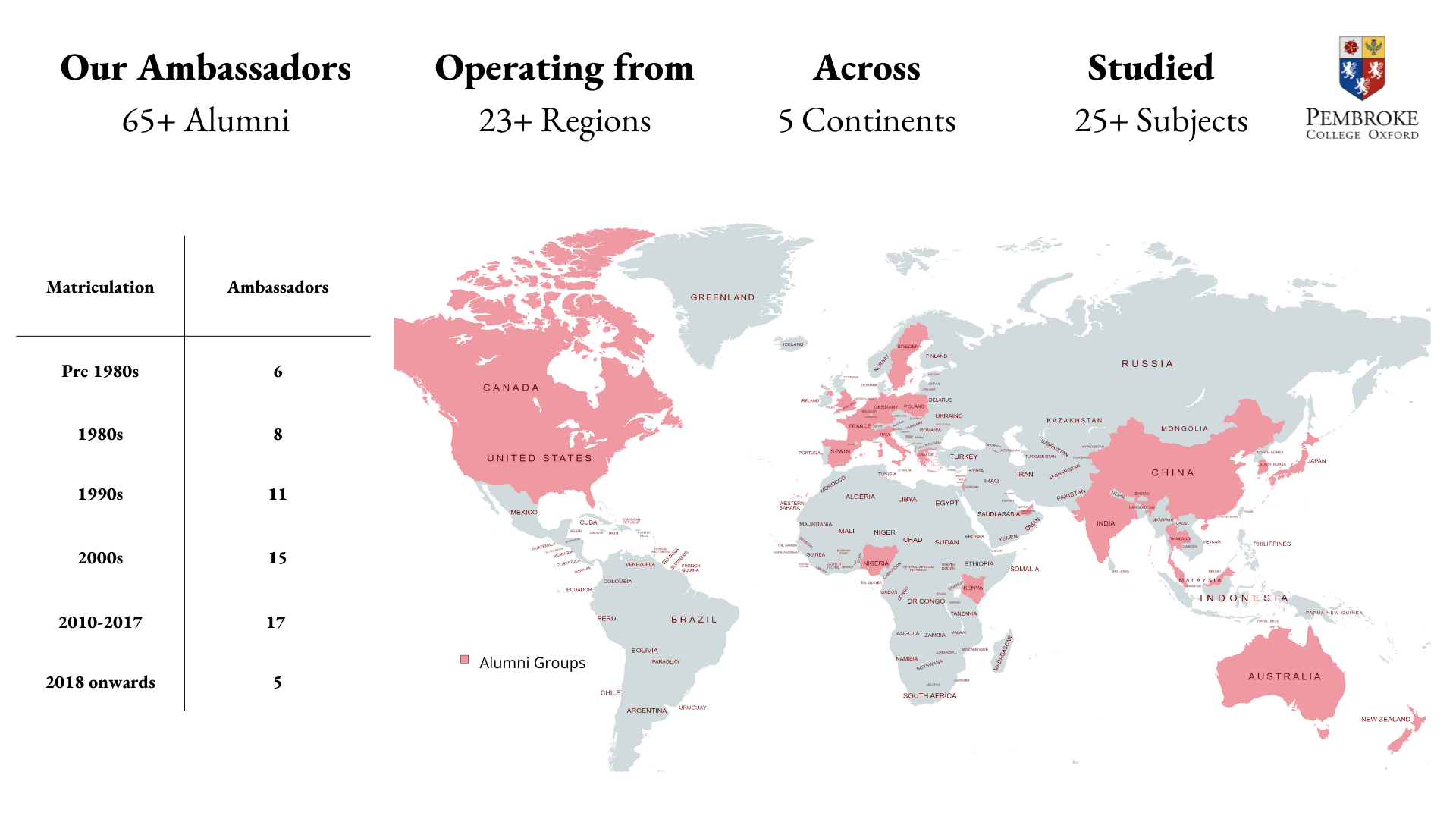 The Ambassador Network is an opportunity for Alumni to get on the 'inside track' of wider College initiatives and, importantly, to 'give something back' other than money, by arranging local events and communications, responding to the wishes of Alumni in your local Network.
Details of our existing Ambassadors and their locations are set out below. Please get in touch with the one you feel is nearest to you in terms of location, matriculation year or subject, in order to reconnect with your College or contact the Development Office.
Name 
Email
Matriculation/Subject
Area/Representation 
UK
 
 
 
Andrew Seton
andrew.seton@pmb.ox.ac.uk
Emeritus Fellow
Brighton, Hove, Sussex
Glyn Alban Roberts*
glyn@asiastudylinks.com
1968 Modern History
Cambridge (and NW Wales)
Edvard Glücksman 
E.Glucksman@exeter.ac.uk
2006 DPhil Zoology
Cornwall and the Isles of Scilly
Samuel Savory*
s.b.savory@gmail.com
2013 Chinese Studies
East of England
Sarah Kane
sarahlouisekane@hotmail.com
1987 Modern Languages
Isle of Wight/Hampshire 
Angela Daniel
subomi@hotmail.com
2017 MSc Major Programme Management
London 
Michael Guan*
mguan@investindustrial.com
2000 MBA
London (see also Shanghai)
Samuel Savory*
s.b.savory@gmail.com
2013 Chinese Studies
London (East)
Andy Cowan 
andycowan333@outlook.com
2017 Dip Organisational Leadership 
Norfolk 
Ronan Daly*
ronan.daly@barlibrary.com
1990 Jurisprudence
Northern Ireland 
Glyn Alban Roberts*
glyn@asiastudylinks.com
1968 Modern History
North West Wales (and Cambridge)
Prof. Derek Jewell
derek.jewell@ndm.ox.ac.uk
1959 Medicine
Oxford
Clare Donnison
claredonnison@gmail.com
1990 PGCE
West Wales 
Africa
 
 
 
Teni Eleoramo
teni.eleoramo@kohathgroup.com
2015 MBA
Nigeria
Australia
 
 
 
Emma Poole
epoole@fastmail.com
1991 BA English; BCL (2011/12)
Melbourne, Victoria 
Vince Lorimer
vlorimer@internode.on.net 
1974 BA Modern History
New South Wales 
Mike Guyomar
mikeguyomar@hotmail.com
1983 PPE
Queensland 
Belgium/France
 
 
 
Harrie Barron
harrie.barron@highbusiness.fr
1980 MA Engineering, Economics 
Brussels/Paris
and Management
Canada
 
 
 
Andrea Poole
agpoole@rogers.com
1980 Law
Toronto 
China
 
 
 
Michael Guan*
mguan@investindustrial.com
2000 MBA
Shanghai (See also London – UK)
Germany
 
 
 
Dr Daniel Klotz
klotzdaniel@gmail.com
2011 Medicine
Dresden and surrounding area
Julia Huentemann
julia.huentemann@gmx.de
2019 MSc South Asian Studies 
Köln 
Susanne Flach
susanne.flach@googlemail.com
2013 Medicine
Munich 
Greece
 
 
 
Assoc. Professor Athanasios Verdis
oxoniana@gmail.com
1997 MSc Educational Research Methodology
Athens 
Stylianos Dimouleas
sdimouleas@gmail.com
2018 PGDip Organisational Leadership
Athens
Hungary
 
 
 
Peter Juhasz
pj315@cantab.as.uk
2018 DPhil Atomic and Laser Physics
Budapest
India
 
 
 
Madhulika Chebrol
madhcheb18@gmail.com
MA Indian Religion Studies
South Central India
Israel
 
 
 
Grace Rodnitzki
grace.yuval@gmail.com
1988 Visiting Student
Israel
Italy
 
 
 
Emanuele Vender
em@nuele.com
1996 MEng Engineering Science 
Milan 
Leonie Smushkovich
leonie@email.it
1994 Modern Languages
Rome 
Japan
 
 
 
Prof. Kohei Kawamura
kkawamura@waseda.jp
2001 DPhil Economics
Tokyo/Japan
Miss Natsumi Tanimura
natsumi.tanimura@gmail.com
2008 Visiting Student
Tokyo/Japan
Malaysia
 
 
 
Dr Edward Leung
eleung79@gmail.com
2016 MSc Major Programme 
Kuala Lumpur
Management
Jo Yan Lim
ljy@limjoyanco.com
2000 Law
Kuala Lumpur
Netherlands
 
 
 
Dado Misljencevic 
d.misljencevic@gmail.com
2004 MChem Chemistry
Amsterdam 
New Zealand 
 
 
 
Tony Burns 
Ant-burns@hotmail.co.nz 
1983 Engineering Science
Christchurch
Neil Miller
neiljamesmiller@yahoo.com
1985 History
Wellington
Philippines
 
 
 
John Adelbert Reyes
JohnAdelbert.Reyes.MMPM21@said.oxford.edu
2021 MSc Major Programme Management
Philippines
Saudi Arabia
 
 
 
Jeremy Sherwood
Jemsherwood66@gmail.com
1985 BA Physics
Riyadh
Singapore
 
 
 
Beverly Guai
beverlyguai@gmail.com
2001 Economics and Management
Singapore
Ankit Sethi 
anksethi@gmail.com
2009 MBA
Singapore 
Tay Yong Seng
Tay.yongseng@allenandgledhill.com
2000 MA Law
Singapore
South Korea
 
 
 
Grace Sur*
gracesursmith@gmail.com
2004 Jurisprudence
Seoul (New York/East Coast USA
Spain
 
 
Spain
Mark Chown
pembroke.spain@gmail.com
1985 BA Engineering Science
Madrid (Spain)
Tony Strubell
antoni@strubell.cat
1971 BA Modern Languages
Catalonia
Sweden (South)/Greater Copenhagen Area
 
 
 
Mike Dooley
mike.dooley@amaleigh.com
1985 MBA
Sweden (South)/Greater Copenhagen Area 
Thailand
 
 
 
Peemdej Utsahajit
peemdej@outlook.com
2011 MBiochemistry
Thailand
United Arab Emirates
 
 
 
Ibrahim Mohamed
mohamed.ibrahim.mba18@said.oxford.edu
2018 Business and Finance
UAE
USA
 
 
 
Mely Wu
Melywu95@gmail.com
2015 Economics and Management
Boston, Massachusetts
Christopher Wingard
wingard.christopher@gmail.com
2018 PPE
Boston, Massachusetts
Jimmy Samartzis
jimmy.samartzis@lanzajet.com
2001 MBA
Chicago, Illinois
Jennie Ceisel
jaceisel@gmail.com
2010 Visiting Scholar PPE
Chicago, Illinois
Kathryn Eissfeldt
eissfeldtk@hotmail.com
1999 Visiting Scholar
Chicago (Peoria), Illinois
Ted Delicath
tdelicat@gmail.com
2011 Visiting Scholar
Denver, Colorado
Arash Farin
arash@arash.tv
1996 PPE
Los Angeles, California 
Danilo Santoboni 
d.santoboni@oxfordalumni.org
2011 Law and Finance
New York City 
Alistair MacLay
amaclay@gmail.com
1991 PPE
New York/Boston, Mass.
Dalia Monassebian
dalia@ordexnet.com
2016 PGDip Organisational Leadership
New York
Jeff Newton 
newton.jo@gmail.com
2004 Law
New York 
Jock Spivy 
Jockspivy1@gmail.com
1973 BA English Language and Literature
New York 
Grace Sur*
gracesursmith@gmail.com
2004 Jurisprudence
New York/East Coast 
Sam Sussman
Sussman.sam@gmail.com
2014 MPhil International Relations
New York
Hyun-Ju Kwak
hyunjukwak@hotmail.com
1993 English Literature
New Jersey/New York/Connecticut
Christina Miller
christina.pcfna@gmail.com
2001 PPE
Seattle/West Coast USA
Jonathan Lazarow
jlazarow@gmail.com
2005 MSc Management Research
Virginia
Jonathan Swanepoel
jonathan.swanepoel@gmail.com
2011 BCL
Washington
Specialist Areas
 
 
 
Matthew Barrett
Matthewbarrett86@gmail.com. Linkedin: Pembrokians in Sport
2004 History
Pembrokians in Sport (actively involved in sports industry)
Ronan Daly*
ronan.daly@barlibrary.com
1990 Jurisprudence
Law
Lily Elsner
lelsner@wellesley.edu
2019 MBA
Global MBAs / Post Grad. Business School/College Boat Club
Kevin Higgins
kevinh@oxfordstreetra.com
2015 Post Graduate Diploma in Organisational Leadership 
Global Dip OL support
David Lanch
dlanch@wea.org.uk
1957 Modern Languages
1950's Alumni
Roland Mumford
rolgm@yahoo.co.uk
1992 Engineering
Music
*Indicates covering an additional area, listed separately.
Italics – Associate Ambassadors – providing practical support to named Ambassador
If you, or an Alumnus/a you know, are interested in becoming an Alumni Ambassador, please contact Andrew Mitchell. Interest from cities/countries and regions within UK and Ireland, not listed above, will be particularly welcome.